Difflam-C Solution
Difflam-C Solution combines the anti-inflammatory benzydamine with an antiseptic to help relieve pain and kill germs that cause minor throat and mouth infections.
Use as a mouth wash or gargle to provide fast relief from the pain, swelling and redness of sore throat and mouth conditions − including pharyngitis, mouth ulcers and pain following dental procedures, mouth or throat surgery, or inflammation due to radiation therapy. Helps to fight minor throat and mouth infections.
Benzydamine hydrochloride 22.5mg/15mL, Chlorhexidine Gluconate 18mg/15mL
Age: Adults and children aged 6 years & over
---
Dosage:
15mL to be gargled for at least 30 sec every 1.5-3 hours
Do Not Use This Medicine:
If past the expiry date
If you are allergic to benzydamine or other anti-inflammatory medicines. If an allergic reaction occurs, stop taking and see your doctor immediately.
---
While using this medicine:
Keep out of reach of children. Not recommended for children under 6 years.
If symptoms persist, see your doctor or pharmacist.
Uninterrupted treatment should not exceed 7 days unless under medical supervision.
Avoid contact with eyes.
Store below 30°C.

About Sore Throats
Why am I having a sore throat? When we talk about having a sore throat, we're describing the pain or irritation that can affect one part or all parts of your throat lining. Your throat (pharynx) is the tube at the back of your mouth that connects your nasal passages (sinuses) to the top of […]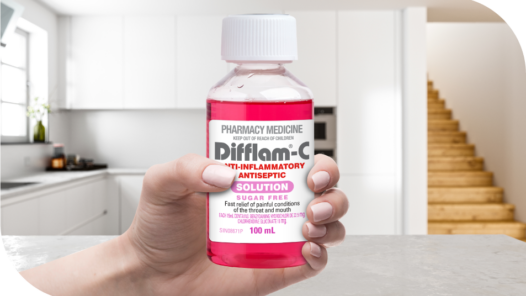 Treating at First Signs of a Sore Throat
Have a dry, tickly or scratchy feeling in your throat? It could be the first sign of a sore throat. Find out what you can do about it.